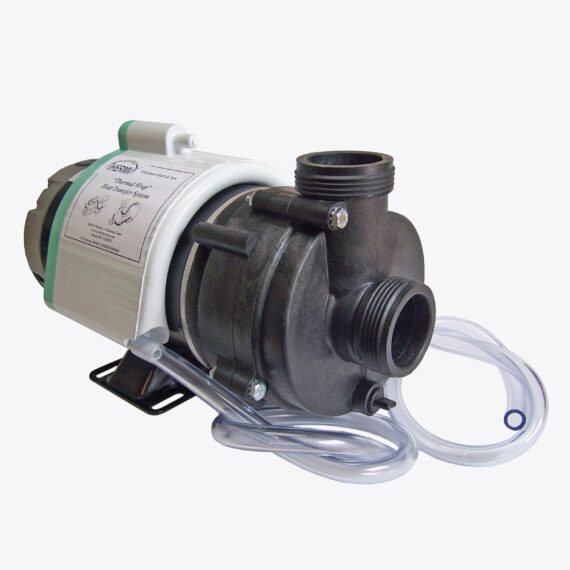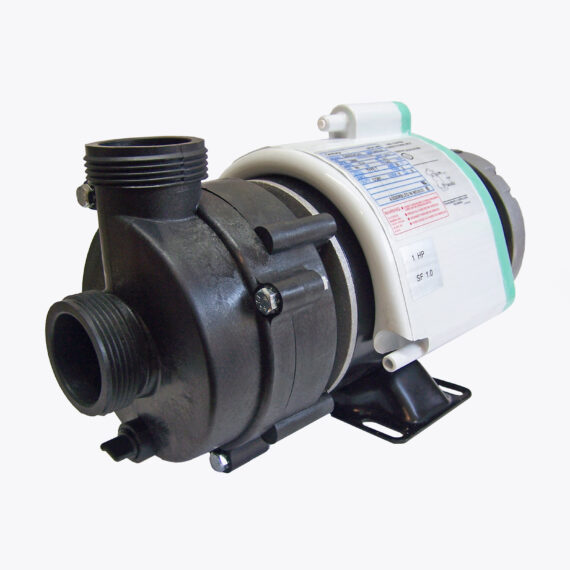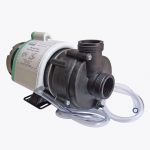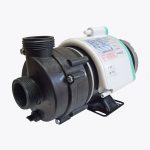 Softub Hot Tub Pump Model CSCD Balboa 1hp (1.5 SPL), Thermal Wrap Heat Jacket (replaces coil wrap)
Softub Hot Tub Pump Replacement – 1 HP with Pre-Installed "Thermal Wrap" Heater Jacket

This system is designed to replace your existing coil wrapped motor with our patented "Thermal Wrap" Heat Jacket – for less money!
Through the past 20+ years we have supplied hundreds of Thermal Wrap Heat Jacket systems for Softub applications.
The Thermal Wrap Heat Jacket will heat your Softub as well if not better than the coil wrap.  We guarantee it!


This System/Listing Includes:
Motor & Pump with Pre-installed Thermal Wrap
Descriptions:
Motor:
Mfg: Century (BN25)
HP: 1 – Service factor 1.0
RPM: 3450
Single Speed
115 Volts
11.8 – 12 Amps
HZ: 60
Frame: 56Z (48Y)
Thermally Protected
Pump: (pre-installed on motor)
Mfg: Vico/Balboa
P/N: 1215119
1 HP (1.5HP SPL)
1 1/2″ Center Suction x Center Discharge – pump threads fit your existing pump disconnects/unions.
Note:
1 1/2″ Pump Connections (Measures 2 7/16″ Outside Diameter)
2″ Pump Connection (Measures 3 1/16″ Outside Diameter)

1) Thermal Wrap Heat Jacket:  Pre-installed on motor
(top port on Thermal Wrap is plugged and not used for Softub applications)
32″) 3/8″ ID Tubing (for making tubing connections between the 2 ports on Thermal Wrap to your existing coil/hose ports in your plumbing)
4) Tubing Clamps
29
people are viewing this right now

100% Guaranteed Safe & Secure Checkout
Description
More about the Thermal Wrap – Heat Transfer System:

Tub water circulates through a serpentine path in the Thermal Wrap, collecting the heat generated by the pump/motor and recycles that heat to the tub water – were it belongs!
This patented heating system for hot tubs/spas and Whirlpool Baths, captures and recycles the waste heat "energy" produced by the pump/motor and delivers that heat to the hot tub or bath water.  The Thermal Wrap system will heat and maintain water temperature.  The system allows the motor to run cooler; increasing the motors longevity and efficiency.  There are no moving parts and nothing to wear out.  Made in the USA!
Efficient:
– Patented design, over 1,000,000 in use
– Special thermal conductive inner heat transfer liner
– Models available for most 48 frame thru bolt spa/hot tub and jetted bathtub pumps
Economical:
– Maintenance free – no moving parts to wear out
– Helps keep motor cooler – increases motor longevity and efficiency
– Cost less than electric heaters
– No additional electrical circuits required for installation
Safe:
– Manufactured of non-conductive materials
– Non electrical
– Self draining design (required for whirlpool bath application)
Note: If the pump/connections pictured above do not exactly match the pump you have, Give me a call to discuss your application, we either have the pump you need or have other available options that will work for your application.
Replacement pump and motor with the Thermal Wrap serves as the only heat source for many spas including: Quantum, Dreammaker, FreeFlo, PDC spas, Softub and others. Can be used and retrofitted to work with most spas requiring 1 hp single speed, 3450 rpm, 115volts pump motor.
Even if you have an electric heater on your spa, the Thermal Wrap System will compliment your electric heater by capturing the waste heat generated by your pump motor and delivering that heat to the tub water, saving you money with heating costs. The Thermal Wrap will help maintain water temperature during normal filtering and heating cycles and while using your spa in high speed jet action.
Additional information
| | |
| --- | --- |
| Weight | 21 lbs |
| Dimensions | 18 × 10 × 10 in |